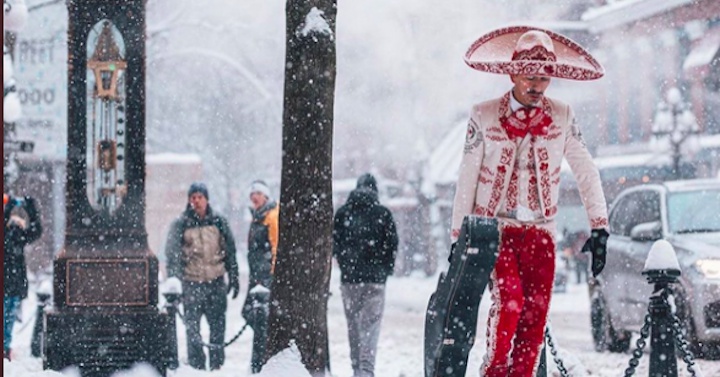 In the middle of a snowstorm in downtown Vancouver, Canada, a man dressed as a mariachi makes his way as he carries his guitar case. "Cold, rain and even snow … Mariachi prevails!" Wrote Canadian photographer Cameron Frazier on his Instagram account (@bananacamphoto). The image was taken up by various Canadian media and it was shared on Twitter more than 4,000 times in the first 24 hours after its publication.
Look what a nice photo a local media published in Vancouver, a mariachi who goes to work in the middle of a very heavy snowfall in the historic center of the city 🇲🇽 pic.twitter.com/JmQvFzlmQO

– Ana Isabel (@AnaIsabelZepeda) January 16, 2020
On Wednesday afternoon, the city was shaken by heavy snow gusts that kept several streets closed. "Out of nowhere, the mariachi happened," Frazier tells Verne, via email. "It caught me off guard because it's not something you see every day, especially in the snow," he says. The photographer indicates that the contrast of the charro suit with the whiteness of the snow was what most caught his attention. "Now I see how important it is culturally," he says. The photo was taken in front of the Steam Clock, a characteristic monument of downtown Vancouver.
The man dressed as a mariachi is Alex Alegría, a 43-year-old Mexican who has lived in Vancouver since 2000 and is the founder of the Mexican music group Los Dorados since 2003. "I didn't realize when they took my picture," he says. to Verne, via telephone. "I was with my group filming a promotional video and the director asked me to walk down the street," he says.
Alegría is originally from Tuxtepec (Oaxaca) and emigrated to Canada to work in an aluminum factory in 2000. One winter afternoon that year, the Mexican felt nostalgic, so he decided to take the charro suit he gave him. his uncle before leaving. "I started singing on Robson Street dressed as a mariachi with my guitar out of nostalgia and that made me feel better," he recalls. "Since then, I started going every day from six to eleven at night and people started giving me money and recognizing me," he says.
At that time I was not singing mariachi songs, but some traditional Mexican melodies. Shortly afterwards, a violinist and a trumpet player, both Canadians, joined the Mexican, dressed in a suit of lights. "One day, a Colombian suggested we play on a project and we sent out hats and light jackets, that's how Los Dorados started," he says.
It was the year of 2003 and their debut as a group of Mexican music was on the anniversary of the Battle of Puebla, on May 5, after rehearsing a couple of occasions. "We didn't have sheet music, we did it by ear," says Alegría. Today this mariachi is led by the Oaxacan and is made up of twelve people of various nationalities: a Chinese, a Taiwanese, a Pole, an Italian and a Ukrainian, among others.
That year, Alegría left his job at the factory to devote himself full time to the composition and performance of Mexican popular music. He and his group liven up the nights in a Mexican and Latin restaurant on Wednesdays and Fridays. "We also serenade, we play on birthdays and even at funerals," he says.
His music has led him to play in the Yukon province (in northern Canada, in the Arctic Circle) and also in some festivals in Mexico. Although he has been out of his country of origin for two decades, Alegría cannot get used to the cold of the area. "One is coupling, but the sun is needed. That is why I make music to always be in contact with Mexico ", he points out.
Despite not being a professional musician, Alegría says he is happy to share the culture of his country. "I was very pleased that the message reached so many people outside of Mexico, it is the most beautiful thing I can share," concludes the Oaxacan.
According to the latest population census in Canada, there are more than 96,000 Mexicans living in this country, most of them in the province of Ontario and later in British Columbia, where Vancouver is located.
Follow Verne México on Facebook, Twitter and Instagram and don't miss your daily ration of Internet wonders.