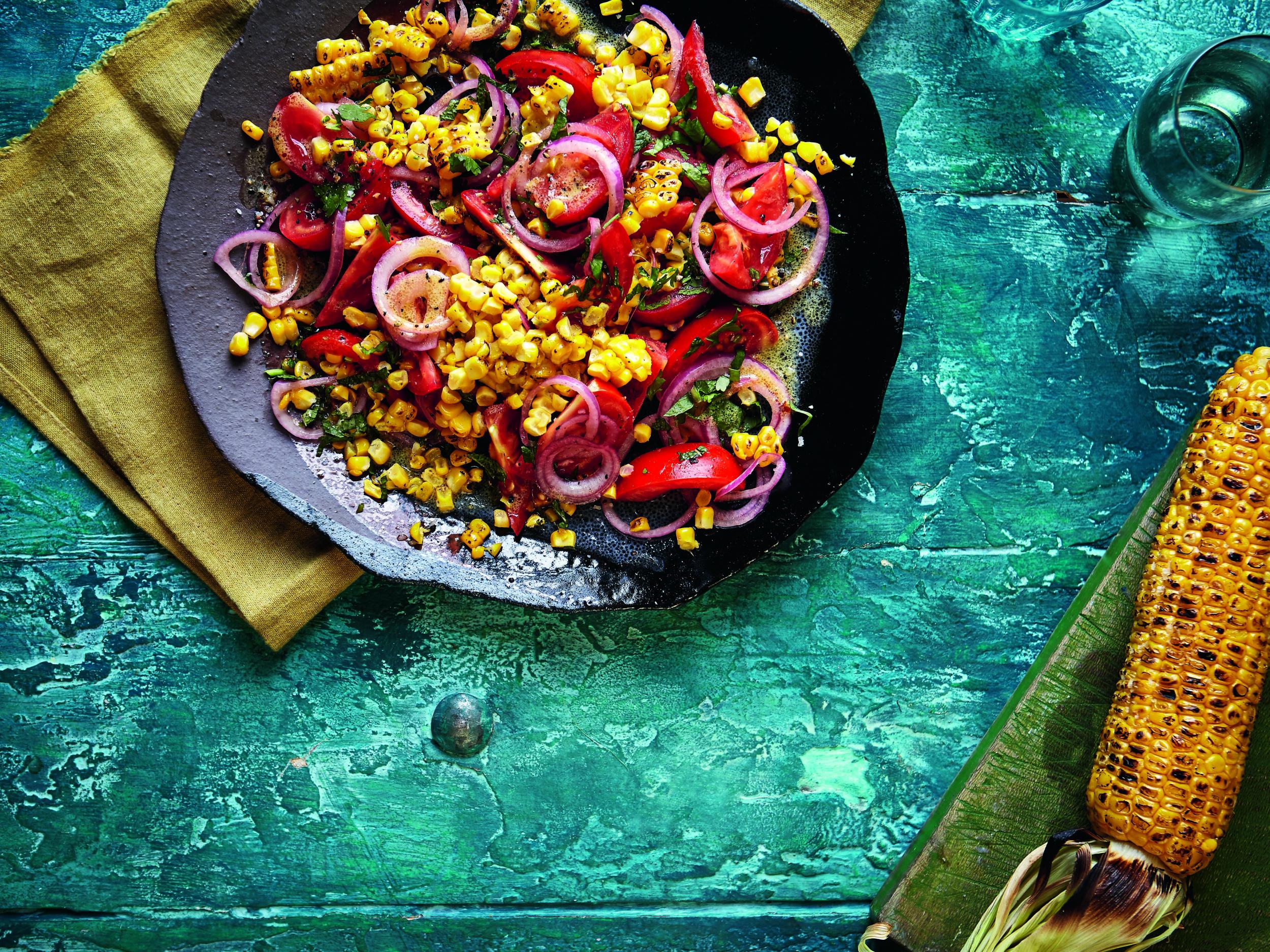 Grilled corn and red onion salad
When corn-on-the-cob is in season and you're getting that barbecue on, this is actually the salad to make! Don't worry – you can still enjoy it at other times of the entire year: simply boil frozen corn in heated water for 2 minutes, then drain and blast it in a hot oven for 5-6 minutes to obtain a slightly roasted flavour. You could even just use the boiled corn too.
Serves 4
Download the brand new Independent Premium app
Sharing the full story, not just the news headlines
Download now
2 ears of corn, husks and strings removed, or 200g sweetcorn 1 red onion, cut into thin rings salt½ tsp chilli powder2 tbsp lemon juice2 tomatoes, roughly chopped 10g fresh mint leaves, finely chopped10g fresh coriander leaves, finely chopped1 tbsp rapeseed oil½ tsp Dijon mustard freshly ground black pepper
Bring a pot of water to the boil and add the corn. Cook for 6-7 minutes, or before kernels are just tender, then drain. Grill the corn under a hot grill or on a barbecue for 10 minutes, or until the kernels are slightly golden, turning halfway through cooking.
Read more
Meanwhile, put the red onion in to a bowl with a pinch of salt, the chilli powder and 1 tablespoon(s) of the lemon juice. Leave to marinate as the corn is cooking. Once the corn is slightly cool, work with a sharp knife to cut the kernels from the cob. Add them to the marinated onion along with the tomatoes, mint and coriander.
In a small bowl, whisk together the oil, mustard, the residual tbsp of lemon juice, a pinch of salt and a pinch of black pepper. When thoroughly combined, pour this dressing over the salad, mix well and serve. This could keep in the fridge for two days and enjoyed at room temperature.
Cheese and potato chapatti sandwich
Perfect for picnics, lunchboxes, or perhaps a light meal at home, this toasted sandwich is filled with a great mix of paneer, cheddar, potato and spices. Toasting the sandwich with mustard seeds gives not merely great flavour but a great-looking finish too.
Makes 4
For the chapattis
200g chapatti flour, plus extra for dusting¼ tsp salt140ml water
For the filling
100g paneer, grated50g cheddar cheese, grated1 small potato, boiled and grated¼ tsp salt¼ tsp chilli powder½ tsp amchoor (mango powder)1 small green chilli, finely chopped10g fresh coriander leaves, finely chopped 
For toasting the sandwiches
sunflower oilblack mustard seeds
To make the chapattis, put the flour and salt into a bowl and gradually add adequate of the water (or a little more, if necessary) to form a soft dough. Knead for just two minutes, then cover and let rest for 15 minutes.
Read more
Divide the dough into 8 equal portions. Roll out each portion on a lightly floured surface to a circle 15-18cm (6-7in) across. Heat a skillet until hot, and cook each chapatti for 1 minute each side on a low-to-medium heat, until slightly golden.
To make the filling, combine the ingredients in a bowl. To toast the sandwiches, use the same skillet you used to cook the chapattis. Drizzle with hardly any oil and, once hot, add a pinch of mustard seeds. When they start to sizzle, lay a chapatti in the pan and spread with 25 % of the filling. Place another chapatti on top and cook for a minute on a low-to-medium heat, before underside is golden. Turn and cook for a moment on the other side, then remove to a plate.
Repeat with the remaining chapattis and filling, cut and serve. Eat these on the day that they're made.
Spinach and coconut dahl
Spinach and lentils is a very typical combination and I've got several ways to cook them together, but this particular recipe is special. It flavours the spinach with lovely spices and coconut, making the taste unique. You can eat a plate of this by itself, or serve it with rice.
Serves 4
For the lentils
250g toor dal1.2l water1¼ tsp salt1 tsp ground turmeric
For the spinach
1 tbsp ghee1 tbsp urad dal1 tsp cumin seeds2 tsp coriander seeds½ tsp freshly ground black pepper4 dried red chillies50g fresh coconut, roughly chopped200g fresh spinach100ml boiling water
For the tadka
1 tsp ghee1 tsp black mustard seeds2 dried red chilliesa pinch of asafoetida
Start by combining the lentils, water, salt and turmeric in a pan and bringing them to the boil. Reduce the warmth, then cover and cook for 40-45 minutes, before lentils are soft. To cook the spinach, heat the ghee in still another pan and add the urad dal. Cook for just two minutes on a low heat until slightly golden, adding the cumin seeds, coriander seeds, black pepper, dried red chillies and coconut. Let all of it sizzle for a minute.
Add the spinach and boiling water. Cover and cook on a minimal heat for just two minutes, before spinach has wilted. Transfer the mixture to a blender and blitz to a puree. Tip the puree to the pan of cooked lentils and get back to the boil.
For the tadka, heat the ghee in a small pan. Add the mustard seeds, dried red chillies and asafoetida and let them sizzle for a minute. Stir this mixture into the lentils and serve. Store within an airtight box in the fridge for 2-3 days. Reheat prior to serving.
'Chetna's Healthy Indian Vegetarian' by Chetna Makan is published by Mitchell Beazley, £20, octopusbooks.co.uk. Photography: Nassima Rothacker