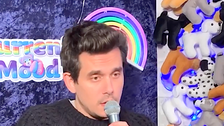 The "No Such Factor" singer shared a tune on Instagram Monday that he wrote about visiting household for Christmas ― and dealing with the fact that the city shuts down early. Fortunately, "the trustiest of companions" is there to consolation him ― a CVS pharmacy bag filled with stuff.
Props to Mayer for a Yuletide quantity that doesn't characteristic snow, Santa or unrequited love. It's foolish, humorous and an instantaneous basic.
"CVS bag, up there on the desk/CVS bag, you're all that I've/CVS bag, principally snacks and a charger cable/CVS bag and a factor for my dad," he sings.