Share and cook together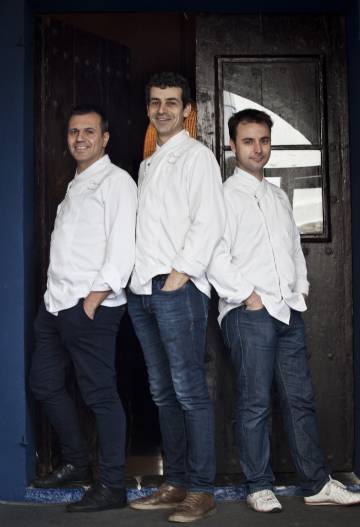 Oriol Castro (Enjoy)
While he makes the most of time with his children, whom he now cooks every day, the work of one of the chefs of Enjoy, in Barcelona, ​​does not stop even with the closure thrown. "From the restaurant we are making donations of food and disinfectant liquid. It is our duty to help ". He was farsighted before the running of the bulls and filled the cupboard with provisions. "Miso cannot be missing," he confesses before explaining that the recipe he recommends sharing with the family is Japanese, "but adapted to all pantries." Thus, Castro proposes to version the soup that accompanies tuna, which in the original recipe is of miso, with a very tasty fish broth, "for example with the head of the tuna, like a marmitako, not to forget the garlic". A dish to share a table and stove: "Since we are going to do more family activities in confinement, why not cook together?"
Shabu-shabu of belly with miso
Ingredients (4 people): Soup: 80 g of white miso, 50 g of soy sauce, 3 g of toasted sesame oil, 2 g of dashi powder, 1 g of xanthan. sauce ponzu: 40 g of lemon juice, 40 g of orange juice, 40 g of rice vinegar. Add 500 grams of tuna belly, 12 mushrooms shiitake small, 10 g of ginger, 10 g of seaweed, a clove of garlic and olive oil.
To make the miso soup, mix the water with the xanthan and crush until there are no lumps; add white miso, soy sauce, sesame oil, dashi and xanthan. The sauce ponzu it is prepared a day before; all the ingredients are mixed and left in the fridge. The mushrooms are blanched for five seconds and prepared in the casserole with ginger, garlic and oil. The algae will be covered in cold water, cleaned and then the water will be changed to rehydrate for 12 hours. The last step is to clean the belly from the skin and bones, and then cut it into very thin sheets (0.3 centimeters thick) and rectangular.
Summer colors in the plate

Camila ferraro
Days before the running of the bulls, he saw the reservation book of his restaurant, Sobretablas, overflow in Seville, after becoming the first revelation cook in the history of Madrid Fusión. But far from regretting the situation, he maintains a contagious positivism. "The break comes in handy to reorganize, innovate, re-make recipes you didn't make, tidy up the garden or prepare everything left in the fridge. And to give us daily joys; Today I prepared the first gazpacho of the season, which is a celebration dish, to get together, to think about times that are to come, "he says. "Spring is here! And even if we get caught inside the house, we have to cook colors, bright colors ". His recipe takes us to Chile, "to the trips he made with the Roca brothers", with which he began his career. It is one of his favorite dishes, with which he remembers "summer days, meetings with family and friends." His recipe is designed to be made with ingredients easily available on the market.
Corn cake
Ingredients (2 people): 3 cooked corn cobs, 100 g of milk, 3 basil leaves, 20 g of sugar, 50 ml of EVOO, 1 onion, 30 g of celery, 2 cloves of garlic, 2 dried tomatoes, 300 g of minced beef , half a cooked chicken breast, 1 teaspoon of oregano, 10 cumin grains, 1 teaspoon of sweet paprika, 1 hard-boiled egg, 2 tablespoons of tapenade, salt and black pepper.
Corn preservatives are first removed with water; it is shelled with a knife and it is homogenized beating the grains with the milk, the basil and a pinch of salt. The mixture goes to the pan five minutes over medium heat and reserves. The meat is browned in the pan with EVOO, and is also reserved. Then garlic, onion, celery and dried tomatoes are finely chopped, and then the minced meat and the frayed chicken, paprika, cumin, oregano and salt and pepper are added. In a clay plate, put the meat base, a thin layer of tapenade and on this the corn puree. White sugar is sprinkled and baked eight minutes at 200º. When presenting, it can be accompanied with tapenade, grated cooked egg and basil sprouts (one hour of preparation).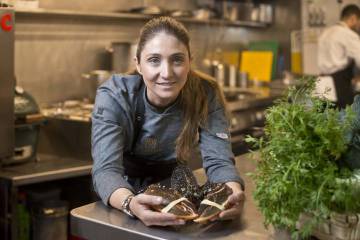 India in a sandwich
Lucia Freitas (To Tafona)
The Galician chef is in love with India. It surrenders to its colors, aromas and dishes. That is why it invites you to visit Bombay through a vegetable sandwich. "In addition to being able to take advantage of vegetable cuttings, as a ratatouille, it can be prepared in the same way as a grandmother's stew, with care and pause. We have time, "he jokes. He chooses it because, in addition to remembering the trip to one of his favorite destinations, "it is a warm recipe, for its ingredients, but at the same time it has a refreshing touch, thanks to the fresh spices." Freitas, whose restaurant A Tafona (Santiago de Compostela), with its own vegetable garden, provides it with seasonal ingredients —although it loves to buy spices and vegetables at the market stall—, is committed to a snack that is not based on meat and that is polyvalent. "You can prepare the bread with your children, it is easy, both steamed and cooked and in the oven."
Pav bhaji with butter bread
Ingredients: ghee (clarified butter), 2 onions, 3 cloves of garlic and equal amount per ginger weight, 1 green chilli, 6 peeled ripe tomatoes, 6 cooked and peeled potatoes, 4 tablespoons of tomato concentrate, 1 bowl of peas, 1 tablespoon whole grain mustard, 1 turmeric, 1 garam masala, 1 teaspoon green mango powder, 1 coriander powder, juice from 3 green limes and a bunch of fresh coriander. Bread: 600 g of flour, 90 of sugar, 25 of butter, 15 of salt, 200 ml of water, 100 of milk, 15 g of powdered milk, 25 of yeast and 15 of bicarbonate.
In the pan, brown the mustard in clarified butter, with the onion, garlic and chilli. Mango, coriander, turmeric and garam masala. Poach and brown. Add tomatoes until reduced and tomato concentrate and lime juice, until evaporated. Add the potatoes and mash them; move everything 35 minutes. Add the peas and the chopped coriander. It is served with a dice of butter, coriander and half a lime. The bread is kneaded and left to rest in 35 gram balls. When they double their volume, they will go to the oven at 180º for 30 minutes, placed with two fingers of separation in a tray smeared in butter and flour (2 hours of preparation).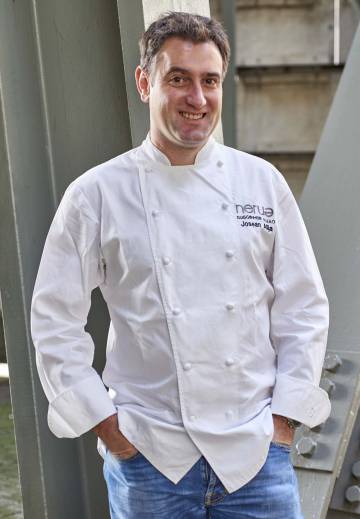 Sweet fusion of Bilbao and Japan
Josean Alija (Nerua)
It has been several hours preparing a cod to the pilpil. He has given to cook, "like crazy, if I could, for the entire neighborhood." "I savored the step by step as the first time I saw him do it, the mother, in the txoko, my life through this elaboration ", explains the chef of Nerua, restaurant of the Guggenheim. His kitchen recovers those roots, to which he adds inspiration from outside. "Traveling invites you to see a culture in its purest aspect and, on the way back, to wink at your roots." He merges Bilbao with Japan through a dessert. "We mix a mochi with the butter bun, which makes a child happy. It is nostalgia, love, humanity. And that is what we lack today. "
Mochi butter bun
Ingredients (20 units): For the mousse: 300 g of butter cream, 2.5 gelatin sheets, 100 g of brioche, 200 g of cream. For the dough: 70 g of water, 15 g of zest of 1 orange and its juice. For him mochi: 100 g of rice flour, 80 g of sugar and butter.
For the mousse, you have to put the cream and the brioche together; crush and add gelatins dissolved in cream, let it take consistency and mix with the cream. Scoop (6 cm long, 2 wide and 2 high), infuse the orange zest and cover 5 minutes. Then we strain and add the juice. Dissolve the ingredients of the mochi in the infusion with flour and sugar. Put a silpat spread butter on a cookie sheet and roll out the dough (2 mm thick). Cover with plastic wrap and cook in a steam oven for 14 minutes at 100 degrees (until transparent). Sprinkle flour on both sides and cut discs of dough mochi; place two filling spheres on top, without any edges (50 minutes of preparation).
.