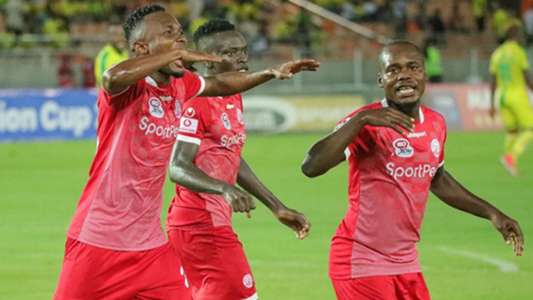 A target in the very first half and three in the second half ensured Wekundu wa Msimbazi secured sweet revenge
Simba SC progressed to the FA Cup finals after beating arch-rivals Yanga SC 4-1 at the National Stadium in Dar es Salaam.
Goals from Gerson Fraga, Clatous Chama, Luis Miquissone and Muzamiru Yassin were enough to make Simba fans smile wide at a half-packed stadium.
Simba grabbed the opener in the 21st minute from a strike by their Brazilian midfielder Fraga following an attack that was spearheaded by John Bocco, which ended up undoing Yanga's defence.
Bocco tricked two of Yanga defenders and crossed the ball to Chama, the Zambian cut inside and found Fraga, who fired home with the lowest drive.
Fraga was among the players who earned a starting position as Sven Vandenbroeck tweaked his team. The Belgian coach reinstated the majority of his first-team members who sat out their previous league match against Namungo FC.
Only Meddie Kagere and Hassan Dilunga were the standard starters who have been benched while Jonas Mkude returned and started after an injury that he suffered in June prior to the league resumed.
On the other hand, Yanga coach Luc Eymael did not tinker a lot along with his usual starting line-up.
With a 57% ball possession in the first half, Simba looked dominant while they also recorded two shots on target while Yanga registered none.
The Wekundu wa Msimbazi also had a greater number of shots off target standing at four while Yanga had zero.
Yanga players were caught on an offside position twice and had two of their stars shown yellow cards while their opponents were neither caught offside or yellow carded in the very first half.
Simba stretched the lead in the 50th minute when Chama, after assisting in the making of the first goal, beat Metacha in Yanga's goal.
As Yanga were still in shock due to Chama's goal, Miquissone added the 3rd for Simba two minutes after the 2nd goal.
The goal is the first for the Mozambican against Yanga since joining in January from UD Songo.
Yanga fought and earned a 70th-minute goal from Fei Toto's strike. Yassin, a second-half entrant, ensured Simba claimed an enormous win as he scored the fourth goal in the 88th minute.
Before the match, Simba's spokesperson Haji Manara had promised his Yanga counterparts huge amount of money should Wekundu wa Msimbazi win. It has become a matter of waiting and seeing if Manara will honour the pledge.
"If we lose against Yanga, I will give [their officials Antonio Nugaz and Hassan Bumbuli] TSh1 million each," that he said.
"I comprehend they defeated us within our last meeting in the league, but as I have already been saying, a fluke doesn't happen twice."
Sunday's match was the third time the 2 Kariakoo rivals clashed in the year although the first tie, on January 4 ended in a 2-2 draw after a Yanga comeback, Simba lost the March 8 meeting by way of a 1-0 margin.
Simba will now face Namungo – who defeated Sahare All-Stars in the first semi-final – in the ultimate match as their dream of a season double remains alive.
Yanga SC XI: Metacha Mnata, Juma Abdul, Lamine Moro, Said Makapu, Papy Tshishimbi, Fei Toto, Haruna Niyonzima, Deus Kasekem David Molinga, Bernard Morrison.
Article continues below
Subs: Farouk Shikalo, Kelvin Yondan, Adeyum Saleh, Patrick Sibomana, Mrisho Ngasa, Ditram Nchimbi.
Simba SC XI: Aishi Manula, Mohammed Hussien, Kennedy Juma, Pascal Wawa, Jonas Mkude, Luis Miquissone, Gerson Fraga, John Bocco, Clatous Chama, Francis Kahata.
Subs: Beno Kakolanya, Gadiel Michael, Erasto Nyoni, Mzamiru Yassin, Hassan Dilunga, Meddie Kagere, Miraji Athuman.