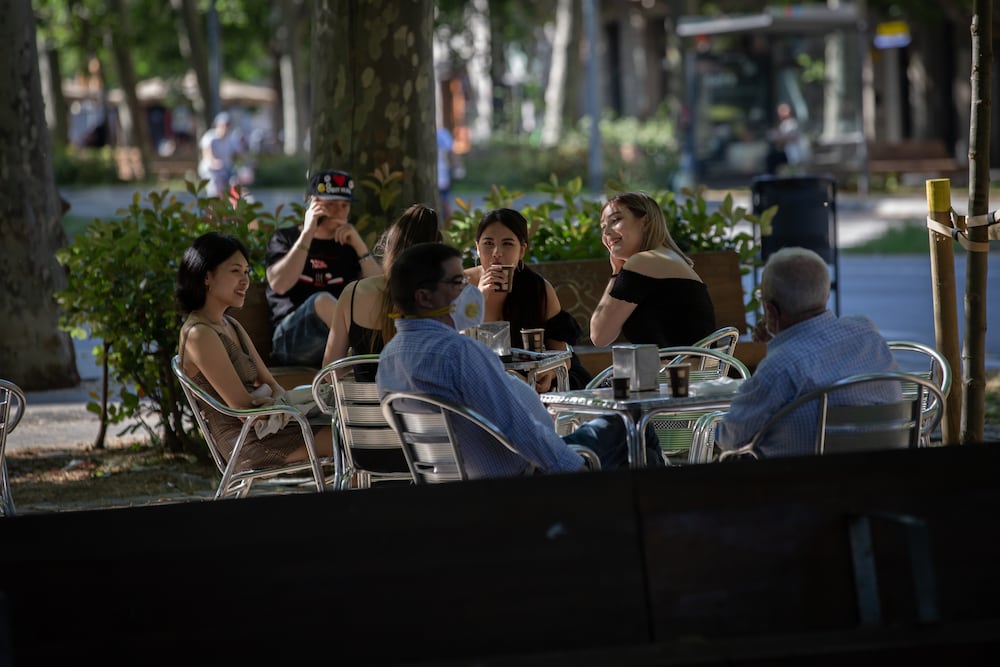 A birthday party. Double the number of people allowed. Four asymptomatic patients. 20 infections. A province that does not advance. It has happened in Lleida – which will stay at least a week longer than planned in phase 1 – and similar stories are happening in other parts of Spain. At the moment no one else has paralyzed the change of scenery, but other parties in Ceuta and Extremadura have alerted the health services. Advancing towards new normality will inevitably bring new outbreaks of coronavirus; the ability to detect them in time and control them will determine if they deserve to paralyze an entire territory or even force it to retreat.
Phase map from
From Monday, June 1
Source: Ministry of Health.
THE COUNTRY
Phase map from Monday June 1
Source: Ministry of Health.
THE COUNTRY
Phase map from Monday June 1
Source: Ministry of Health.
THE COUNTRY
In Ceuta, several parties – one with 80 people suspected – even threatened to return the autonomous city to phase zero, as acknowledged on Thursday by his own health adviser, Javier Guerrero. Minister Salvador Illa later clarified that as long as the outbreak was under control, it would not be necessary to take this measure. And he recognized other sources, such as Lleida, where some cases in meat industries join the party; in Totana, a Murcian municipality that has also lagged behind in the phase advance with respect to the rest of the region due to several cases associated with day laborers; in Cuenca, where Illa did not provide further details.
And they are not the only attempts detected. In Badajoz, another birthday party forced 18 people to be confined and small intra-family outbreaks have transpired in the reunions that take place, such as one in Tenerife in the middle of this month, when an asymptomatic person infected eight other relatives, according to reports by the Local newspaper Canary 7.
Fernando Simón, director of the Center for the Control of Health Alerts and Emergencies, already said it in one of his appearances this week: "An innocent party can end in an outbreak." But some of those known were not so innocent and occurred after a clear violation of the rules, so the authorities constantly call on citizens not to relax and scrupulously comply with the corresponding phase. "If we are not all in the new normality, it is for a reason," said Simon.
"What we are seeing so far is normal"
Small foci are "inevitable", in the words of Andrea Burón, spokesperson for the Spanish Society of Public Health and Health Administration (Sespas). "The risk does exist, so it is important that the health systems organize the strategies well and invest in the necessary resources to detect cases and isolate contacts. In addition, the collaboration of the population is very important, both in compliance with the regulations and in the reporting of all suspicions, "he stresses.
As Ángel Gil, professor of Preventive Medicine and Public Health at the Rey Juan Carlos University, remembers, although social gatherings are allowed, they are not mandatory every day with different groups of people. Dose the number of these meetings can be, he says, part of this citizen collaboration. "When we go out, we can see that we have been relaxing. It is even overwhelming the amount of people you see. We have improved a lot, but because a series of rules have been met. The virus is still there and we must continue to keep our distance, hand hygiene and the use of masks to prevent these outbreaks from going further, "he explains. It also calls for central and autonomous governments to do their part: "They must prepare primary care, not wait for an outbreak in the fall-winter period, in addition to preparing the health system to search for contacts when each outbreak appears. "
The really worrying thing, according to the experts consulted, is losing the trace of the transmission of the virus. Let cases of unknown, unrelated origin begin to emerge. This is what would force you to have to retake massive confinement. While the chains of contagion are known, it is enough to isolate the people who have been in direct contact with the infected.
"Obviously, what cannot be is the norm, that every day there is an outbreak in the same province, that is what would make it necessary to reverse the de-escalation. But what we are seeing so far is normal ", stresses Jesús Molina Cabrillana, from the Spanish Society of Preventive Medicine, Public Health and Hygiene. He sees a problem in young people, who have many social contacts and can transmit the virus asymptomatically.
The great fear is that one of these outbreaks will bring with it another epidemic wave. Experts think that they will react better than in the first and that hospitals will not suffer the pressure they were subjected to during the toughest phase of the health crisis, between March and April. But the only way to guarantee it is to control those outbreaks before they lose track.
Information about the coronavirus
– Here you can follow the last hour on the evolution of the pandemic
– This is how the coronavirus curve evolves in Spain and in each autonomy
– Search engine: The de-escalation by municipalities
– Questions and answers about coronavirus
– Guide to action against the disease
– Click here to subscribe to the newsletter daily about the pandemic