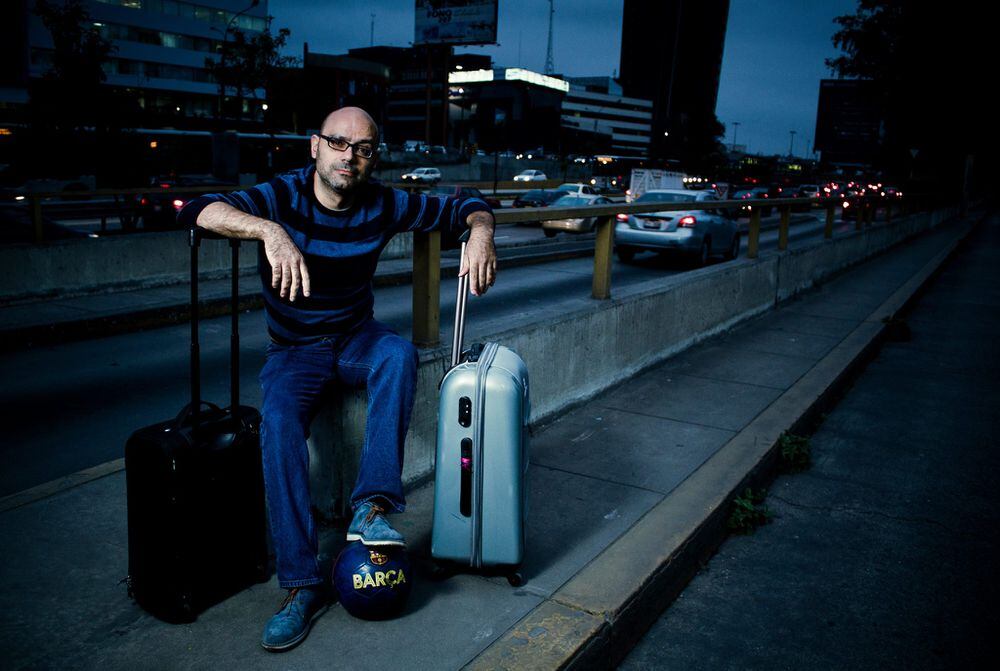 Hernán Migoya (Ponferrada, 49 years old) was ready to return to the Spanish literary scene, even if it was to be torn to pieces, as happened with All whores in 2003. He was ready to be reminded that his first book, a collection of stories that was branded, somewhat opportunistically, according to what happened later, when the work was claimed (with a graphic version made by women in 2014), of "misogynism" was about to be banned, and that its editor, Miriam Tey, was forced to resign as director of the Women's Institute and to resign from her public career. He was ready to hear again that his stories had made "apology for rape", and perhaps to share with someone that his case had been the first of many in which the increasingly sharp political correctness was driving the tooth. What I was not ready for was for it to hit a pandemic and put that moment in limbo with no readers or reactions.
Barycentre (Reservoir Books), his first memoir, the book that was going to relaunch him, had to arrive at bookstores two weeks ago, but two weeks ago the state of alarm was already underway, so there was no landing. Is it not bad luck that the most intimate thing that has been written, that which you play the most, comes at a time when nobody is looking? "That does not worry me. The book is written and it exists. The rest is beyond my control and I am not concerned at all, "Migoya replies. Regarding that past that has passed, he says: "For me, what was difficult then was the reception of indignation and disgust that I noticed in the literary environment. My literature seemed in bad taste to them, because 'quality literature' has been imposed by the affluent classes, which is thus very formal, always in accordance with conjunctural morality, a ministerial literature, of not leaving the established. My books are like a spit in my face in this panorama of serious gentlemen ".
The Barycenter of which he speaks in the title of the book is nowadays little more than a small mass surrounded by other brand new moles. It can be seen from the highway, the not glamorous C-58, crowded with workers' vehicles, that in other times came and went from their factories, and that today perhaps they do from their offices. A modest shopping center – and no less than the first in Spain – that tries to survive the sophisticated and absurd attacks of time. At memoir from the self-exiled author from Barcelona – from Barberà del Vallés, the dormitory city of the Barcelona red belt – recovers its status as the cornerstone of the dreams of a class, which was formed by the children of immigrants from the rest of Spain, "children of Stephen King embarked in Noah's ark of immigration ", in Migoya's words, for which differences did not yet exist, because everything around them was about to be built.
"It was to see the cube of its construction in the middle of nowhere and feel like the protagonist of The great American hero when the ufo comes down and they give him the superhero costume. But in reality, shopping malls are what they are, representatives of collective capitalism: they have the good point that they contributed to making us working class middle class and that it opened our eyes to wonderful universes, all kinds of leisure and culture. It is not a little ", says the writer, who adds that" the children of that time had much less stimuli of consumption than those of today, and worse those of the suburbs, that we were children of rural immigrants usually " Migoya is these days, "like everyone else now", locked in his apartment in Lima, "terrified with what is coming" and thinking that "who the hell could be interested in a novel about the dissolution of a proletarian and charnega family when what it is dissolving out there is our whole world. "
The novel is, arguably, a Ordesa pulp, an uncomplexed family novel, in which the family is diluted at the same time as it is built, because the route is chronological and the notes to each period seem to be taken from a balance in which the evasive has been replaced by the real. "When I considered that there was a novel in my family's history, I had to deal with that collateral aspect, because I hate to death the subgenre of the plasta writer who talks about his family or his life. In any case, since my narrative approach is never 'love me because I am very intellectual and very sensitive', I tried to stick to three fundamental lines to shape this story: one, reflect the brutality of the past with the same intensity as the emotional; two, away from the topic of the ugly and boring writer giving you the ember with his pathetic life and giving the content a casual pop patina, like my own vital and creative attitude, looking at autobiographical works that I like, like the If Only from former Spice Girl Geri Halliwell, "she says.
The vintage pop references – from cassettes to Conans – They are everywhere, and they cannot do it because the Migoya boy, as his brother Juan's friends used to say – also called Jean, pronounced in Spanish – did nothing but read. "But your brother, why does he read so much? The bastard is always reading, "they told Jean. "I was an old boy, who always consumed culture from 20, 30 or more years ago: at 10 years old I would hear tangos and read Dashiell Hammett and the adventures of Arsenio Lupine", he confesses, and adds something quite illustrative: "With 15 For years she bought Dolly Parton records in her 80s, when the urban snobs who now adore her insulted you for it. But I didn't buy them for coolIt was because it was the kind of music I had learned to listen to with my mother! The Parton is a Dúrcal Dew from deep America. " That is, culture, without patina of any kind. Culture, simply, as a lifeboat. "Reality has always seemed like a bad fiction to me. And it distracts me from important things or things that matter to me. Everything that comes out every day in the media is background noise, "he says.
"My literature seemed to be in bad taste, because ministerial literature has been imposed by the affluent classes," says the writer.
Neither his father nor mother know that he has written Barycentre. He had planned to travel to deliver the copy in person. He hoped that they could read it at ease, and transmit with him "what I owe them." His father will no longer be able to read it, because he suffers from Alzheimer's. Her mother, yes, but since she is sick with cancer, everything is uncertain these days. "I keep hoping to give you the book in hand. Hopefully, "says Migoya, who insists on defending fiction above all else. "Fiction opens doors to worlds that we do not know. As children we know somehow that we can inhabit these fantastic worlds and be someone in them. They are worlds where time doesn't matter. When mortality grips, there is nothing that gives us greater peace than reading a book from the last century or watching a movie from 100 years ago, a ghost movie, I call them, because all their actors and actresses are already dead. And, paradoxically, that transmits calm to me. All authors know that someday we will end up there, with someone taking a book of ours in 100 years and visiting our immortal-looking world. That destiny of ours is a privilege ", concludes the writer.