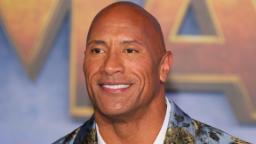 In a video clip uploaded to Instagram, a towel-clad Johnson, also known as The Rock, shown his fans his "sheltering at home, pre daddy's shower ritual."
"Before my showers now, Baby Tia (mama mia) demands I sing the rap portion of my song 'You're Welcome' from 'Moana,' while I wash her hands," he composed. "We realized a few weeks ago that the rap portion of the song is perfect timing when getting your little ones to have fun washing their hands."
Johnson was amongst the voice actors for the 2016 Disney movie.
"Stay healthy and safe, my friends," he included.
Johnson's following cooperation with Disney is "Jungle Cruise," a movie based upon the amusement park trip.
The movie is readied to launch this summer season, yet in a Q&A over the weekend break, the celebrity recognized those strategies could alter as cinemas stay shut and also spectators stay careful amidst the spread of coronavirus.