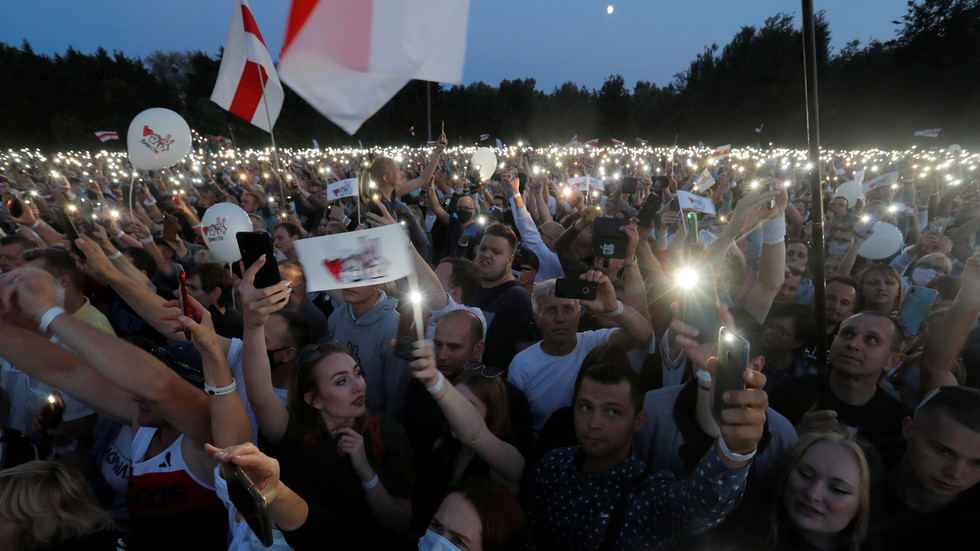 A sea of people has filled a park for a rally in support of Svetlana Tikhanovskya, the opposition candidate in the Belarusian election set for next week, in what is reported to be the biggest anti-government protest in a decade.
Thousands of people flocked to the 'Druzhba' [Friendship] park in the Belarusian capital, Minsk, on Thursday to voice support for Tikhanovskya, who has emerged as a top challenger to the incumbent Aleksandr Lukashenko after several prominent opposition candidates were disqualified from the race.
According to estimates by Belarusian human rights group 'Viasna,' at least 63,000 people joined the rally-cum-concert event. Attendees sang along in Russian, while flashing cell phone lights and waving balloons, red-and-green state banners as well white-red-white flags of historical significance.
The latest data from @viasna96: at least 63,000 rallied tonight in #Minsk. It's one of the largest rallies in #Belarus then. Also,the site is not popular in the city. Security measure were increased,too. Usually,pre-election rallies were not popular at all pic.twitter.com/6l2xEuqdxR

— Hanna Liubakova (@HannaLiubakova) July 30, 2020
Tikhanovskya first addressed the rally in Belarusian, and then switched to Russian. She said that she rejects revolution, and wants…