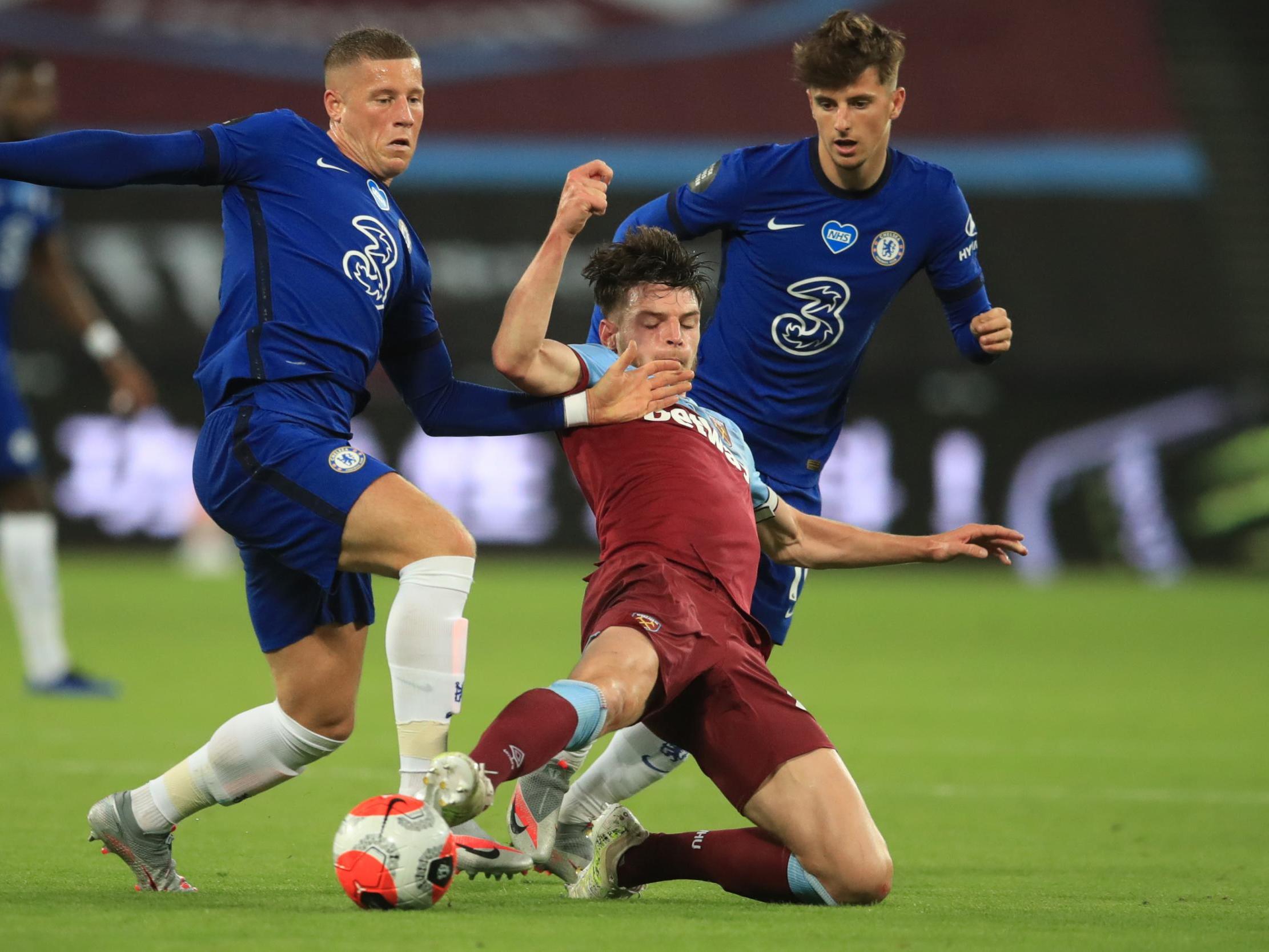 The London Stadium was the setting for an engaging London derby on Wednesday evening, with Chelsea and West Ham exchanging leads until the Hammers emerged with all three points.
David Moyes' hosts thought they'd taken the lead when Tomas Soucek netted late in the initial half, limited to a lengthy VAR check to deny them the opener.
Chelsea soon struck from the spot through Willian before Soucek successfully levelled for West Ham in the next half and Michail Antonio drove home a close-range finish for the Hammers.
Download the brand new Independent Premium app
Sharing the full story, not just the news
Download now
Willian was on hand again for the Blues, however, scoring off the post with a free-kick – seemingly ensuring the honours would be even come full-time.
West Ham substitute Andriy Yarmolenko would provide an additional twist, though, sliding a finish past Kepa Arrizabalaga for the win. Here are five things we learned from the Premier League fixture:
Read more
Rice could prove a remarkable fit at Chelsea
Last season, Declan Rice had been labelled a "Rolls Royce player" by neutral fans, left, right and centre. His stock was high, he was earning his first England caps, & most teams in the top flight would have taken the young midfielder aboard.
Chief those types of clubs was seemingly Chelsea, where Rice started his youth career and where his closest friend Mason Mount resides.
Although Rice have not had the most effective season – few in the Hammers' claret and blue have – it still feels as though the 21-year-old could prove a fascinating, or even wholly necessary, prospect in Frank Lampard's young and increasingly Anglicised team.
If West Ham do end in the Championship next season, there is surely no chance Rice stays in east London – no matter exactly how many times they hand him the captain's armband, as they did on Wednesday. Chelsea have plenty of cover in the midfielder's preferred position, but his youth and capability to deputise at centre-back could prove alluring enough for Lampard.
Declan Rice is challenged by Chelsea's Ross Barkley (left) and Mason Mount (POOL/AFP via Getty Images)
Draining relegation cycle can be broken
West Ham, Watford, Bournemouth, Aston Villa and Norwich have all been fantastic at a very important factor since the league's resumption: ceding any and all advantageous assets to climb over one another and towards daylight.
What it's resulted in is just a cycle that's more draining than vicious, one where these five clubs have destined to keep until the end of the growing season – possibly even until the day that this societal construct we know as time collapses and Wednesdays are as hard to come by as Premier League points.
Norwich were trampled 4-0 by Arsenal on Wednesday evening, while Bournemouth also conceded four within their miserable hosting of Newcastle. These results followed Watford's 3-1 defeat by Southampton at the weekend, when Villa were beaten by Wolves. These clubs keep offering one another opportunities to flee the cycle, but they also seem incompetent at seizing these chances.
Or at least they did until West Ham secured three pivotal points against Chelsea. You obtain the sense that even a couple of draws ahead of the end of the term may be sufficient sustenance for any one of these brilliant teams to drag themselves out of the loop, up and away from the drop zone, towards the light. So a win seems seismic. It undoubtedly felt seismic for West Ham on Wednesday.
Moyes is not done yet
Speaking of cycles… West Ham fans, how familiar may be the following pattern? Your side come up against a top-six team; they take up position behind the ball, dreaming about any opportunity to break and work the ball to Antonio; they fall behind, soon to concede an additional goal; the second reason is finally followed closely by substitutions, with the result already out of sight.
Just as the pattern of struggling sides wasting opportunities ended with this particular game, West Ham's demoralising gameplay pattern – stunningly – ceased.
Read more
Following the failure of Manuel Pellegrini earlier this year and the east Londoners' performances since Moyes arrived, it seemed for all the world that the Hammers had a need to look to a younger coach.
But the jury remains out on that. West Ham have struggled for results since the restart, but their performances have already been sprinkled with the odd positive, in some places, and they finally built on those against Chelsea. They must build further as the end of the season nears.
Forgotten man Willian is in business of reminding
In light of Christian Pulisic's scintillating showings in recent weeks, it feels as though Willian has been somewhat over looked.
The Brazilian, a dutiful servant of Chelsea Football Club since 2013, at one point seemed certain to depart Stamford Bridge come come july 1st, but he's been essential to his side's success because the Premier League's restart.
He was as clinical from the penalty spot on Wednesday as that he was against Manchester City last week, was conscientious and diligent elsewhere in the overall game, and found the net for a second amount of time in the second half when his free-kick bounced off the post and past Lukasz Fabianski.
Willian celebrates his second goal with team-mates (Getty Images)
With the winger having recently agreed a short-term contract extension to stay at Chelsea before end with this extended season, could there yet function as the potential to find out a new deal that appeases both sides? Hakim Ziyech's looming arrival might render such a development redundant, but Willian is proven in the English top flight and, even as that he nears 32, is always helpful to have around.
VAR as divisive as ever
Fans dispute VAR's effectiveness for a plethora of reasons, and if you support the implementation of the device, one thing it will for better or worse is seemingly expose shortcomings in the officials operating it.
Was Antonio in a offside position for Soucek's disallowed opener? Of course. Was that he obstructing Kepa's line of vision? It undoubtedly didn't appear to be the case.
If such a thing, the West Ham man was helping the goalkeeper out by blocking off one side of the Brazilian's net, all the while staying low and flat and leaving the ball noticeable to Kepa.
West Ham had to wait for pretty much four minutes to find out the verdict with this particular VAR ruling, and understandably felt hard done by when it was unveiled. Thankfully for them, it didn't affect their result – but it might have affected their goal difference.